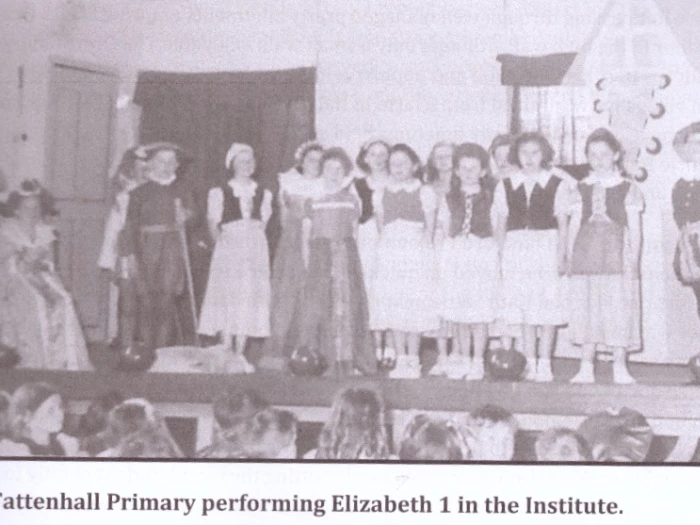 Memories of Tattenhall by Alan (Dicky) Miles.
In post war years (the Barbour Institute) became an important part of life in the village. First memories are of a rather dour place, visiting with Mother to pay rent in the library (first room on the right) where 2 or 3 men from the Estate sat, waiting with their fountain pens and metal cash boxes. The Institute had a library, badminton, jumble sales, the W.I. and occasional dances.
Visits from Mr Crawford from Malpas brought a thrilling new world to the Barbour with the arrival of picture films. Highlights included Flash Gordon, George Formby, Laurel and Hardy, Roy Rogers and Trigger and the Lone Ranger. Keysbrook and the school yard became the Wild West with cowboys, cowgirls, Indians and bandits, all riding their horses and guns, knives, bows and arrows were on everybody's Christmas lists!
Another discovery at the Barbour was the Billiard Room, despite children not being allowed upstairs. After sneaking upstairs one time, upon opening the door a choir of voices in unison "You lot, out". Whist drives were very popular with elderly residents – there was talk of money and prizes! Lessons in 'Old time Ballroom' were surprising enjoyable, despite no sense of tune and two left feet. A star part in the School play and Christmas Fayres were popular and well attended.
Mrs Pringle set up a youth club just as rock music arrived to Tattenhall. Listening to Bill Hayley, Barry Williams and others became budding popstars. As a teenager dancing was not for me, although standing looking gormless and shaking my head seemed to get me by.
Mum and Dad worked as temporary caretakers at the Barbour for about 18 months, the kids helped with chairs etc. Every Sunday from dawn 'til dark together with R'Joan, R'Ray, Rob Seville, Slish Harper and others we played snooker and badminton – for free and with no-one shouting "Get out". Overall, the Barbour Institute was an exceptional place in my young life, I remember it all with a smile of pleasure and thankfulness.