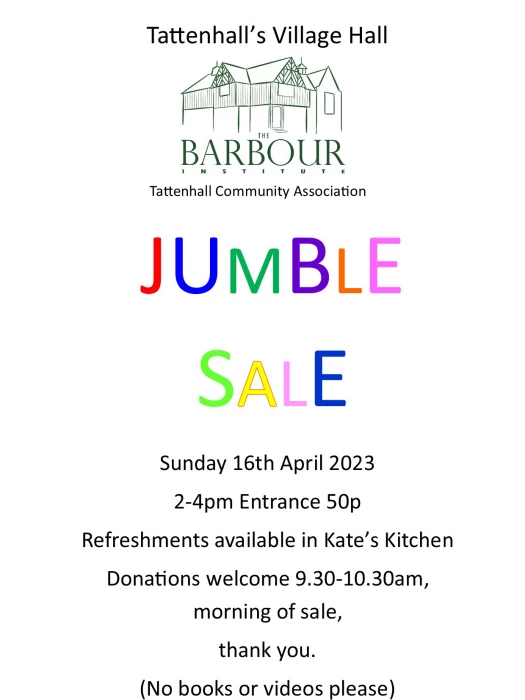 Hello All,

The recent Jumble Sale at the Barbour Institute was a resounding success!

Our wonderful volunteers received a fantastic amount of jumble, with only 1 car boot load not passing our strict QC check. This was taken to the tip the next day.

Tattenhallers arrived in droves to drop off items, with no road rage or bumps on the car park and lots of helping hands. Many items (including mine) had been languishing in a dusty garage – it was great that the volunteers had aprons, gloves and santiser at their disposal!

The jumble was quickly sorted into the following sections (just so that you know what you can donate next time) women's/ men's/ children's clothing, children's toys, household and bric a brac, accessories, including bags, shoes, jewellery , textiles and garage and garden items.

Shoppers started queueing (in the drizzle) from 12.10pm, for a 2pm start. They were suitably entertained by a vintage tractor drive-by, not sure we can guarantee that next time.

Kate's Cafe was filled with fresh ground coffee and freshly brewed tea and a huge selection of cakes, brew and a slice for a very reasonable £1! Furthermore, Kate and her volunteer ladies made sure that all helpers were topped up regularly with caffeine. Or de-caff as required.

In the style of Come Dancing, many Tattenhall residents spotted perusing the sale were tapped on the shoulder and invited to come back next time – as a volunteer – which is great fun and earns you first pick of the stock!

We took a record- breaking amazing £765.65 on the day, fantastic fundraising for the new kitchen floor and bathroom renovations that are currently in the planning stage.

With many hands making light work it only took 20 mins to pack up. It took us longer to unpack the items my mum had bought!

On Tuesday afternoon the remainder of the jumble was taken away by Hugh from British Heart Foundation and on Wednesday morning all the leftover clothing and textiles was given to Tattenhall Park Primary School to boost their clothing weigh-in fundraising, so that the donations just kept on giving.

Already we have had people asking when the next one will be – watch this space, it will be sometime in the Autumn, in lieu of a book sale.

A huge thank you to all who helped, donated, bought, ate cake, drank tea and took away the remaining items. Team work makes the dream (of new toilets) work.

Kind regards,

Tattenhall Community Association